Hey Gang, I have some BIG BIG news!!
I'm planning to go into a recording studio very soon to make my next album — featuring never-before-recorded songs of mine. Songs you may have heard at shows: "Siena's Song", "I Quit", "To See My Baby Smile", "Won't Be Back at All", "Nothin' but a Man" and more.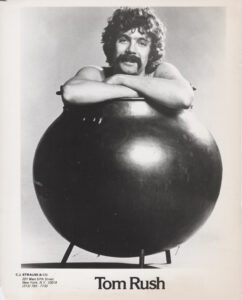 To make this possible I'm launching a Kickstarter campaign to try to put together the resources it will take to pull this off.
This campaign ends on April 27th, and the way Kickstarter works, if we have not reached our goal it all just goes "poof" — nobody gets charged, no rewards are sent out, and … the album doesn't get made.
I honestly feel that this will be my best work yet (Matt Nakoa will be producing, and you know what a monster talent he is). I greatly appreciate whatever help you can give! Go to Kickstarter and check it out.
All the best,
PS: The picture of me sitting in a giant copper pot (that I bought at a yard sale) was used way back in history in an ad for a New Year's Eve concert. The caption was "Get Stewed With Tom Rush!!"
Quote of the Month:
"To get the full value of joy you must have someone to divide it with." –– Mark Twain