Gang,
Scattered thoughts seem to be the norm for me these days. A random sampling:
If I'd been commissioner of the NFL, I'd have sentenced Tom Brady & Co. to play one game with a fully deflated, one might say flaccid, football.
I have it on good authority that both Canada and Mexico are working up plans to build border fences to keep out fleeing American liberals in case Trump wins the presidency.
I don't want to sound anti-immigration or anything, and I don't even know where Kardashia is, but I wish they'd go back where they came from.
Scientists say that the behavior of subatomic particles changes if you even think about them, causing them to flit in and out of existence. So, what if somebody thought about all of them at once? Wait! Don't do it! Damn, that was close.
The most fun thing for a puppy is an old guy trying to put on his socks.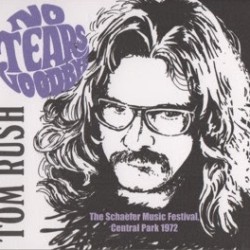 In an odd development, I'm selling my own bootleg. Actually, no, this is from the UK and is legal since anything on the radio in the '70s or '80s is now in the Public Domain there. This is a show I did at the Wollman Rink in Central Park on August 12, 1972, as part of the Schaefer Music Festival. I'm fronting a kickass band featuring Trevor Veitch, banners snapping in the wind, on lead electric guitar. WARNING: the audio here is pretty rough. Feedback, occasional random bits of conversation from stage-side, a somewhat chaotic mix—this will not be up for any engineering awards. But it has a compelling energy and takes me back to the moment, and to the era. (This is one of the things music does so well.) I scored a few copies, but there's no way of knowing how long this is going to be in print. If you're interested, don't dawdle! Available only in our online store.
Two notes about upcoming shows: I won't be doing a Symphony Hall show between Christmas and New Year's this winter–we couldn't get a date that worked–so these shows listed below are the only area appearances I'll be doing.
And, to make these shows even more special, I'll have a young whippersnapper named Matt Nakoa accompanying me on keyboards and harmonies. He's a monster (and I mean that in the nicest way), an artist on his way up; I'll likely ask him to do a song or two on his own during the course of the concerts. You will love him, guaranteed.
This weekend:
Friday, 11/6, the Cabot Performing Arts Center in Beverly, MA. The Cabot has just invested a bajillion dollars on a magnificent makeover and is truly, I'm told, a wonder to behold. I can't wait to behold it!
Saturday, 11/7, the Narrows Center for the Arts in Fall River, MA, a hallowed old industrial space that I've come to love. (I always open the show there with "It's Going To Get Hot Tonight" so I can include the line, "I left my liver in old Fall River."
Sunday, 11/8, the River Club Music Hall in Scituate, MA, one of my favorite South Shore stops. This and the Narrows tend to sell out, so, again, don't dawdle!
If you can't attend, send a friend.
Enjoy what's left of the Fall—some nice warm weather coming up in New England and the foliage is still glorious!

All the best,
Quote of the month:
"I am really cautious about what I say and do." "I always put clothes and family photos under the mattress, in case the house burns down." "I hate to talk about myself."
–– Kim Kardashian