Gang,
One of the grand things about living in New England is that there's never a dearth of things to complain about. We go seamlessly from moaning about the cold in the Winter to bitching about the heat in the Summer, pausing only briefly to take note of the rain and black flies in the Spring and how the garden's failing in the Fall. On those rare perfect days – 68 degrees, not a cloud, light breeze from the south – you can hear people observing, with a touch of petulance, that they "can't complain."
We are currently in the midst of our annual Take A Black Fly to Lunch festival. About this time last year I heard a fellow on New Hampshire public radio talking about the little darlings. It turns out that, while mosquitoes need stagnant water to breed, the black fly requires a pure running stream. No pollution tolerated – they have higher standards than most bugs. You could tell by his doting tone that the chap found this to be an endearing quality. He also fondly pointed out that when the female bites you, she is not merely sucking blood, as an ordinary insect might. Rather, she is taking a tiny chunk of your flesh back home to feed her brood. I actually thought this guy was expecting an "Aww, isn't that sweet!" kind of reaction. I'm sorry if I disappointed him.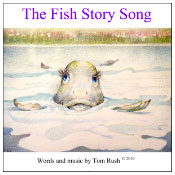 Speaking of non-sequiturs, the Fish Story Song (now available for download at the web store!) seems to be taking on a life of its own. One Todd Kwait wants to make a video of it and will be coming later this week to do a shoot of me singing the song for some kids. I'm sure this will involve some rollicking and frolicking, perhaps even romping. I'm frankly not as good at that sort of thing as I used to be, and hope that I will be allowed to simply look on while smiling benevolently and nodding sagely. (I've gotten rather good at nodding, if I do say so – practice makes perfect, they say!) We'll see what the end result will be, but I hope to be able to share it with you before the year is out.
Some shows coming up:
With Jonathan Edwards! The Colonial Theater in Bethlehem, NH this Thursday;
Two nights in Natick, MA at the Center for the Arts (TCAN), Friday and Saturday, June 17 and 18th;
A reunion with Buskin & Batteau at the City Winery in NYC, Sunday, June 19th;
Prescott Park in Portsmouth, NH will be a FREE (!!) outdoors show (unless you want to make a donation) (though it's my birthplace – they STILL haven't put up the statue) on Thursday the 23rd;
and Saturday the 25th will be the Nashua Folk Festival at Holman Stadium in Nashua, NH (with, as of this writing, James Montgomery and Bruce Marshall, Kate Taylor, the Jon Pousette-Dart Band, and Jonathan Edwards).
And to close out the month, an outdoor show at Codman Farm in Lincoln, MA.
Come on by, say hi!
All the best,
Tom Rush
Quote of the Month: "Spring has returned. The Earth is like a child that knows poems."
– Rainer Maria Rilke