Gang,
Happy New Year to one and all! I hope that 2017 is treating you appropriately so far. As for me, the news of late has been so alarming and depressing that I've taking to finding refuge in flights of fantasy. (Call me Tutankhamun, I'm da king of denial!)
For example, it was brought to my attention that an application was filed for a license to use Johnny Cash's "Ring of Fire" in a commercial for hemorrhoid cream. The application was denied, but it got me thinking. How about "Urge for Going" for adult diapers? "Someday My Prints Will Come" for CVS film processing? Carly's "Anticipation" re-written as "Constipa-a-ation (Is Making Me Wait)? The possibilities are endless! Feel free to go to my Facebook page and post further suggestions.
A network massage:
I'm looking for a writing space in the western 'burbs of Boston, hoping to be able to finish up work on songs for recording sessions in the spring. (I almost have enough to record an entirely self-penned album, which would be a first.) A vacant guest house? In-law apartment? A home that's empty while the owners tour the world while there's still time, and a world to tour? Suggestions welcome, percs available. (Album credit? A home concert? The possibilities, again, are endless.)
And a treat for you! I've had the honor of working with two ultra-talented youngsters over the past year or so. Matt Nakoa has been my musical compadre for most of the shows I've been doing lately. He's also got his own thing going on and is attracting a lot of attention. Seth Glier and his buddy, saxophonist extraordinaire Joe Nearny, have also joined me on stage on several occasions and just blown the audience away. (I must have a masochistic streak to be working with such show-stealers as Matt, Seth and Joe.)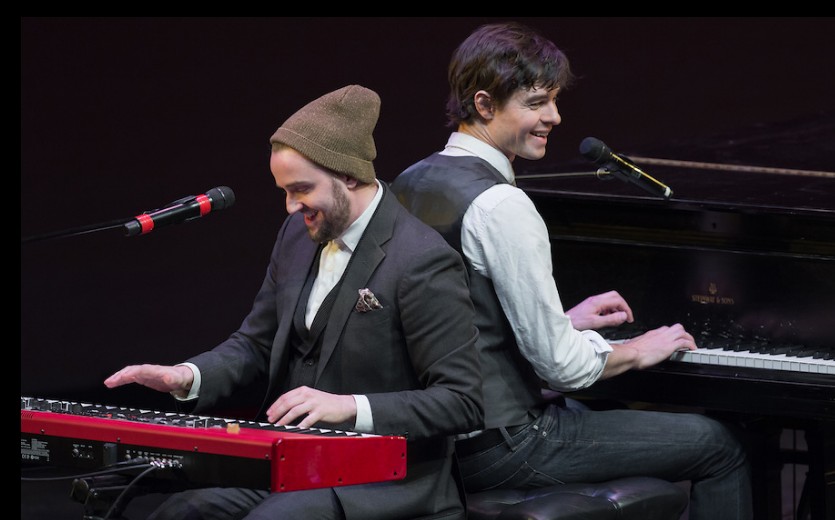 Seth Glier and Matt Nakoa
They're all doing a show together at The Center for the Arts, Natick (TCAN) this Friday the 13th in Natick (of course), Mass. They'll each do their own sets, but I'm pushing them to collaborate on some songs—I think this could be a 1+1=11 situation. I plan to be there, hoping that the kids might let the geezer on stage for a tune or two—hoping we might get to do "Kids These Days," a song I haven't done in forever, but kind of fits the situation. These guys are going to be big deals someday soon, and you can say you saw them back when. (Did I lie to you about Joni? Jackson? James?) Come on by—I guarantee a night to remember!
Hang in there. Remember, it's always better to fight for something than against something.
Stay warm, stay sane!
Tom Rush
Quote of the month: "Democracy is a device that insures that we shall be governed no better than we deserve."
–– George Bernard Shaw