February 7, 2012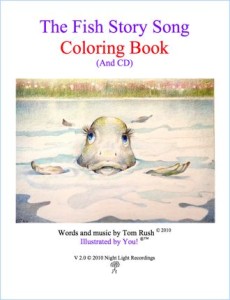 Gang,
I think I've figured out why the YouTube clip of the Remember Song has been jet propelled lately (it's logged about a half-million plays since the first of the year). You guys have been posting the link on your FaceBook pages! This is like having a hit on the radio back in olden times, so after 50 years of dogged slogging I have at last become an overnight sensation. Thank you – and keep up the good work!
In other news, a recent study found that the average American walks about 900 miles a year, while a different study revealed that Americans drink an average of 22 gallons of alcohol annually. I regret to report that I am below average on both of these indices, but if you do the math you will see that Americans get about 41miles to the gallon. Just an average, mind you, actual results may vary, but I thought you should know.
Off to the Rockies this weekend with a film crew in tow, starting the documentary process. They won't be shooting the shows themselves but picking up "B-roll" footage – tuning guitars, sound checks, talking to folks at the vending table, trying to wheedle my way out of a speeding ticket, stuff like that. Thursday in Crested Butte, Friday in Denver, Saturday in Colorado Springs. Come on by. If you can't attend, send a friend.
And stay warm!
All the best,
Tom Rush
PS. Advance notice: on Wednesday, March 28, I'll be doing a very special show at Passim in Cambridge, MA, officially kicking off my 50th year by going back to where it all began. (The space that is now Passim was, back then, the Club 47.) Tickets aren't on sale yet, but mark your calendars. It only seats about 80 people … 'nuf said.
Quotes of the month:
"Of all vices, drinking is the most incompatible with greatness." – Walter Scott
"My rule of life, prescribed as an absolutely sacred rite: smoking cigars and also the drinking of alcohol before, after and if need be during all meals and in the intervals between them." – Winston Churchill