Tom has partnered with Canadian guitar makers MacKenzie & Marr to produce a limited edition recreation of Tom's classic "Naked Lady" guitar, the original being destroyed in a house fire some 20 years ago.  Since then Tom has been looking the right partners to recreate this iconic instrument.
During the design phase, MacKenzie & Marr came upon a limited quantity of extremely rare "Adirondack Redwood", a High Altitude Tight Grain Western Cedar which was used for the top wood of this classic Dreadnought. The Cedar gives each note a crisp snap and provides a tremendous forward tonal projection with rich overtones.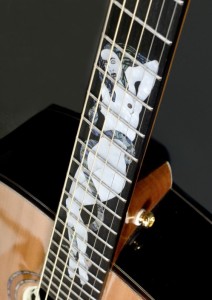 The back and sides are premium solid book-matched Indian Rosewood, and of course the exquisite mother-of-pearl inlay image of Eve entwined with the biblical serpent. To round things off, the Guitar comes fitted with an L.R.Baggs Anthem system, one of the best electrical components available for acoustic guitars.
The Naked Lady is limited to an edition of 250, and lists for $1,759.99. However the results are so outstanding, that we feel it sounds and plays as well as guitars in the $5,000 range. Also available is the Tom Rush Signature Dreadnought which boasts the same construction but without the neck inlay.
With a 7 day no-questions-asked return policy, MacKenzie & Marr make it very difficult not to fall in love. But hey, don't just take our word for it! There has been some great press and some very satisfied customers. Tony Martins caught our eye with this his experience and love affair with the "Naked Lady". You can read it for yourself in the on-line edition of the Ottawa based culture magazine Guerilla.