October 16, 2013
Gang,
In my ongoing effort to keep up with our 14 year-old I have been studying the arcane lore of acronyms the kids use on the Internet these days. An online search turns up literally hundreds of them, but I've winnowed the big list down to a favorite few that I thought I should share with you: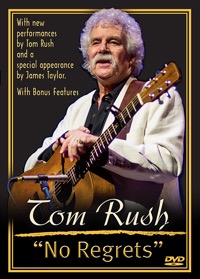 *$ = Starbucks
KPC = Keeping Parents Clueless
IIIO = Intel Inside, Idiot Outside
CRD = Caucasian Rhythm Disorder
DWS = Driving While Stupid
WOOF = Well-Off Older Folks
LOLWUSS = Laughing Out Loud With Unintentional Snort Sound
YUMPI = Young Upwardly Mobile Professional Idiot
BHOF = Bald Headed Old Fart
WWSD = What Would Satan Do?
And, among my personal favorites, YARBWYA, meaning "You're A Right Bleeding Wanker You Are!
The news de jour is that the video documentary on me, "Tom Rush: No Regrets," is ready for public viewing and will be debuted at the New Hampshire Film Festival in Portsmouth, NH, starting tomorrow. It will be shown at the Music Hall Loft (131Congress Street, Box Office 603-436-2400) this Thursday, 10/17, at 2:55PM and again this Sunday, 10/10 at 12:40 PM.
There will be a Q&A session with filmmaker Rob Stegman after each screening, Producer Todd Kwait will also be there Sunday, and I'll be there as well for a song or two following the Sunday session. Come on by, but don't ask any really hard questions, like "What's the capitol of South Dakota?" Here's a link to the trailer: https://vimeo.com/76486506
In other news, we're hard at work putting together a show for Boston's Symphony Hall on Saturday, December 28. Mark your calendar. Nothing is on sale yet (so don't call the Box Office – it just annoys them), but I'll let you know as soon as I know who among my musical friends will be there!
Thanks for reading, and TTFN (ta-ta for now),
All the best,
Tom Rush
Quote of the month: When I was a kid I used to pray every night for a new bicycle. Then I realized that the Lord doesn't work that way so I stole one and asked Him to forgive me.
Emo Phillips