October 1, 2012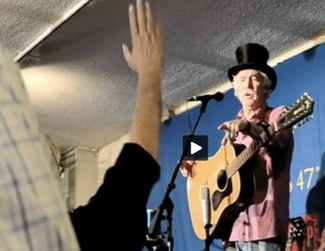 I'm off to the West Coast next week – it's been a while. I'm looking forward to seeing my friends out there, and refreshing my frequent flier portfolio. Well, I am shocked and mortified, and hope you will be too. I was at a fundraiser, simply making some off-the-cuff remarks to a few of the high rollers, trying to explain my position on the state of the country. Well, it was captured by a hidden camera – the scallywags have no shame! I was being perhaps a bit too candid and now the whole thing's been posted on YouTube. Very embarrassing! I probably could have expressed myself better, but there you have it. We just have to hope it doesn't "go viral," as the kids say. (I probably could have forged a link between the Club 47 and the 47%, but it didn't occur to me until later.)
If you can't attend, … you know the rest.
Enjoy the Fall!
Tom Rush
P. S. – I'm still working on firming up the list of guest artists for the Symphony Hall show on December 28th. As soon as that's done – by mid-October, I hope – we'll have tickets on sale at the Symphony box office, and the Kickstarter supporters will be notified. Thanks for your patience!
Quotes of the month: "A fool and his money are soon elected."- Will Rogers
Also, "Anyone in the world wanting to understand American music could well start right here"- Pete Seeger, speaking of "Bossmen: Bill Monroe and Muddy Waters," by Jim Rooney, now back in "print" as an e-book on Kindle at Amazon, Nook at Barnes & Noble and as an Apple iBook.