November 30, 2010
Gang,
I hope your Thanksgivings were all marvelous and that the relatives and in-laws behaved themselves as well as could be expected. It was a quiet weekend here, which was just lovely and bucolic. A flock of wild turkeys has started hanging out just outside the kitchen window. Of course they had the good sense not to show up until the day AFTER Thanksgiving.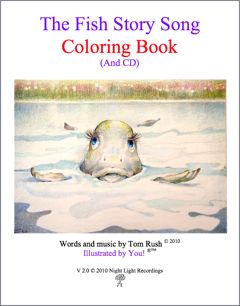 I'm headed out for the last weekend of shows for the year, and will be trying out two (!!TWO!!) new songs. One is the kids' song I talked about in my last missive ("The Fish Story Song"). It concerns a talking fish, and I'll be bringing along the coloring book-with-CD I mentioned. It got good reviews from the neighborhood tykes and is now all dressed up with a cover picture by one David Jorgenson (who illustrated the Velveteen Rabbit, and many others, and happens to be a neighbor). If you'd like a sneak peek-and-listen go to our secret web page at TomRush.com/TheGreenRoom.html, which is just for folks on this mailing list. (The book is not yet available at the store at TomRush.com, but will be soon – and there's all kinds of other good goodies there right now.)
The other song I'll be trying out is a bit of social commentary written by my friend Josh Brackett, which addresses what I feel is an urgent issue confronting this great land of ours. I don't want to give away too much, but the chorus goes
I'll tell you what's wrong with America,
I'll tell you why times are so tough,
The poor have too much money,
And the rich don't have enough!
It's a rouser, and I expect the audiences will take a break from toasting each other with the Krug and Cristal and lighting their cigars with $1000 bills to join in and sing along. Come on by and lend your voice!
Thursday Dec. 2 (I don't like to give you too much advance notice) is the Landing at Pine Point, Scarborough, ME; Friday will be Tupelo Music Hall in Londonderry NH; Saturday will be the Bull Run in Shirley, MA with Eric Lilljequist and Dean Adrien joining me for our annual reunion, and; if it's Sunday it must be the World Café Live in Philadelphia, PA. And then I do have one more show at the new Tupelo Music Hall in White River Junction, VT (just a few miles from home) on Friday, December 17, which I'm thinking of as my very own Christmas Party for friends and neighbors – and anyone else who wants to stop in.
Stay warm, let the ones you love know you love them.
All the best,
Tom Rush
Link of the month: Renée shared this with me – the text very thought-provoking talk by Bill Moyers on the reassignment of wealth in America.
Visit the store at TomRush.com where all kinds of cool things are offered.