November 10, 2011
Halloween is a very stressful holiday, or whatever it is, for me. With the kids it's a quasi-religious occasion, and, not wanting to dampen their enthusiasm, I go along with it all, carving pumpkins and baking those nasty little orange cupcakes, pasting on my best smile and enthusing, "Ohhh, this is YUMMY!"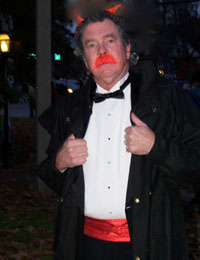 This year my daughter-dictated costume was in the theme of a "Devil Butler." Black, slicked-back hair, red horns, red moustache, nose ring and tuxedo – nothing that would attract attention.
All the Trick-of-Treating here is done in the center of town – the rest of the hamlet is just too spread out. While waiting for the Kid and her hench-persons to pillage the village I, in all my costumed glory, stopped into the pub to console myself with a quick pint. Before I'd had a chance to consider how to get the foam past my dyed-and-spiked moustache, this woman I'd never seen before in my life comes running up to me and gushes, "Aren't you Tom Rush?" Lord! What does a guy have to do to blend in?
But all that's minor stuff in the greater scheme of things. The real trouble is candy. The aftermath.
We live at end of the road, at the top of the hill – no kid would dare come here. But nonetheless we get some candy every year, just in case some poor tyke screws up the courage to confront the great unknown. Of course they never do, and we have a pile of leftover Mars Bars, Skittles, Hershey's Kisses, on and on. So what is to become of this stuff? I don't want my family risking their dental health, laying on needless pounds … and think of the triglycerides! On the other hand, I'm from New England and throwing it away is not an option. It's a real dilemma!
The answer, as in so many things, is, of course, self-sacrifice. I thoughtfully hide it away in various secure locations, and then over time – say, a day or so – when no one is looking, I consume it. I do this only to keep my loved ones from succumbing to temptation, gorging themselves on those vile empty calories, exposing themselves to the above-mentioned health hazards.
But am I appreciated for this selfless act of sacrifice and devotion? No! Words like "Pig!" and "Glutton!" are bandied about, along with dire premonitions about diabetes and heart attacks. But that is precisely the point, you see. I take the bullet for them! I throw myself in front of the onrushing train, pushing them to safety at the last possible second! Someday they will understand. Perhaps next Halloween.
I feel better, having gotten that off my chest. Now down to business. Or play – for me they're pretty much the same thing. I'm doing a New York tour this weekend: Friday the 11th in Syracuse, Saturday the 12th in Mamaroneck, Sunday the 13th out on the Island at Bayshore.
The following weekend there are just two shows: Saturday the 19th in Chatham, NJ, at the Sanctuary, and Sunday the 20th in Philly at the World Café Live. Come on by or send a friend.
Oh! And the Fish Story Song Video should be available just in time for the holidays – it's looking great! Little kids and grownups are loving it – it's too "childish," or so I'm told, for 12 year-olds.
All the best,
Tom Rush
Quote of the month: "This Halloween, the most popular mask is the Arnold Schwarzenegger mask. And the best part? With a mouth full of candy you will sound just like him." Conan O'Brien