May 24, 2012
Gang,
I've been pounding you pretty hard lately, and I apologize. There's been a lot going on, with a lot of deadlines. After this I'll go tend my garden and give you a rest for a while!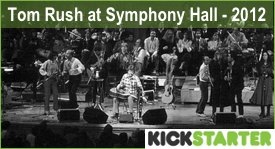 Last call for the Kickstarter campaign for the Symphony Hall show on December 28th – 48 hours to go. It closes at 1:23PM EDT on Saturday, May 26th. There will then be a short hiatus before the remaining tickets go on sale at the Symphony Hall box office, where they will be charging an additional $6.25 a ticket. Ticket prices for some sections will also go up, and most of the incentives will no longer be available (though you'll still be able to get tickets, posters, shirts and CDs on the open market.) But the special seats where you can join the band on stage for the finale (one left), the private concert (one left), and the bundles of seats + posters + tee shirts will be gone forever.http://tinyurl.com/7oar2qq
First call for my show at Passim on Tuesday, June 12th. You have a 48-hour head-start, starting now, and there are only 80 seats. Tickets will go on sale to the general public at noon on the 26th. This is the second in a series of three shows dealing with various stages of my 50 years in music. (The first one, back in March, on The Early Days sold out in a matter of hours.) This show will focus on My Middle Ages; Eric Lilljequist and Dean Adrien will be joining me to talk and sing about the Elektra and Columbia years, and all the madness of the '70s – or as much of it as we can remember. http://tinyurl.com/7hnc8xj
That's it! Thanks so much to you Kickstarter supporters – can't wait to see you at Symphony Hall in December!
All the best,
Tom Rush
Quote of the Month: "Gardening is not a rational act." – Margaret Atwood