March 16, 2012
Gang,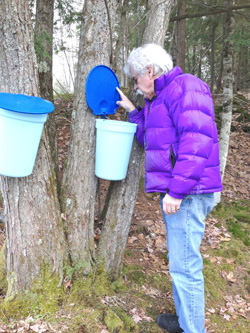 One of the cool things about maple syrup is that nobody knows where it comes from. Kind of like subatomic particles, political candidates or the things that teenagers say. Well, actually we know that syrup it comes from maple trees in the form of sap; but what we DON'T know is why the sap flows when it does. Freezing nights and warm days seem to be a prerequisite, an "enabling factor," as they say, but in no way a guarantee. Some think it's a southwest wind that turns on the tap, others look to moon phases or barometric fluctuations but it's all very anecdotal and unscientific. Music seems to have no effect whatsoever. At least mine doesn't. Maybe they like rap.
Suffice it to say that this year nothing is happening sap-wise, for me at least. All my buckets are bone dry, though other folks are getting a little action. And yes, I did tap maple trees, not pines. (In my youth I used to hang a few buckets on telephone poles just to make people wonder.) Last year, when I didn't have time for it, there was so much sap that one neighbor told me he just took down his taps after a while because he got tired of all the boiling. This year, nada.
It might be just as well, since I am again girding my loins to go out into the world, to play some shows, perhaps for you! Sellersville, PA on Thursday, 3/22; York, PA on Friday the 23rd; Alexandria, VA (the Birchmere!) on Saturday the 24th; and to round it out, Garwood, NJ, on Sunday, March 25.
Then there's the "Tom Returns to His Roots at Club 47 to Kick Off His 50th Year on Stage" thing at Passim in Cambridge, MA on Wednesday the 28th. This sold out within hours of my announcing it in the last newsletter, but do not despair!! We'll be webcasting the show for the unfortunate millions who did not get to pay $100 to be there. (It's a fundraiser for the New England Folk Music Archives.) For a mere $3 you can be virtually there. Go to http://ConcertWindow.com/Passim and there will be two big sign-up buttons, one for just this show, one for a month's subscription. (They also do webcasts from other clubs around the country.) The show kicks off at 7:00 PM on Wednesday, March 28th, but the webcast will start about 30 minutes ahead of that to give you time to get your equipment calibrated, the beer properly chilled and so forth.
One caveat: Concert Window is only set up for LIVE webcast – there are no re-runs or archives. So if you forget it, forget it. Also, you cannot sign up in advance, so set your alarm clocks for 6:30PM, Wednesday the 28th. There will be a link to my Facebook page there, and I'll be checking comments and requests from time to time on stage so that I can reply with appropriate, or inappropriate, retorts.
This is where I'll be introducing you to a new guitar and, hopefully, be making an announcement about a fantastic Grand Finale to the 50th year. Join me if you possibly can!
All the best,
Tom Rush
Quote of the month: "We don't stop playing because we grow old; we grow old because we stop playing" – George Bernard Shaw (thanks to Gunnar Baldwin)