Gang,
Some years ago on a flight from SMW (Somewhere) to BOS (Boston International) I awoke from a well-earned nap to find my seatmate having some kind of weird seizure. (I don't suppose there is any other kind, now that I think about it.) His eyes were glazed and he was gesticulating wildly with his arms as though conducting a symphony, or wrestling with an imaginary gorilla. "Are you all right? I inquired cautiously. "I'm Keith Lockhart," he replied, as though that were the only explanation required. "Ah!" I replied brightly. "I conduct the Boston Pops," he said by way of clarification. Well! That explained the imaginary gorilla.
We met again just last week when I played with the Pops for the first time, as part of my Harvard 50th reunion. It was quite a kick. When those strings and horns come in it's like the afterburner lighting up! Just one song, mind you (No Regrets), but they said they'd like to talk about having me back for more, maybe in the Fall, so I regarded this as sort of an audition. I hope I'm not giving anything away here, but I thought Keith and the gang did really well and I'm favourably disposed to giving them another chance!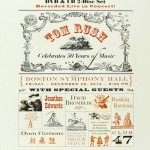 1-hour version will air on Tuesday, June 4th (tomorrow!) at 10:00PM and they'll be offering a full concert DVD-plus-CD combination as a pledge gift — you'll be able to get it at 888-897-9424 or http://wgbh.org/rush. I'm a big Public Television enthusiast, and urge you to get on board here!*
I'll be lazing around – well, actually putting things into cardboard boxes and taking them out again – until July 19th and 20th when I'll be at TCAN in Natick, MA, and then Minneapolis, MN, Evanston, IL, and Pomeroy, OH, in August. Oh! And the Shalin Liu in Rockport, MA at the end of August (this one always sells out early) and Jonathan's in Ogunquit, ME on September 1. Links to the venues for more information are below.
Stay cool, and enjoy the summer!

All the best,
Tom Rush
*PS. New Hampshire Public TV will also be airing the show on Tuesday 6/4, in Hi-Def at 10:00PM and in Standard-Def at both 8:00 and 11:00PM.