June 22, 2014
Gang,
A fellow recently sent me an email about his aged cat who had stopped eating and was losing weight. The vet told him the problem was dementia. My initial reaction was to feel sorry for the poor beast and its owner. (Actually "owner" is not right. It is truly said that dogs have owners, cats have staff.)
But then the thunderbolt hit. "Eureka!" I cried, "I'm rich!" Fad diets have for the past hundred years been making their promoters obscenely wealthy, at least up to the point where they are discredited and sent to jail, or have to change their names and leave the country. Dementia-Slim™ is in development as I write this and the boys in the lab are working around the clock to find a way of inducing a slenderizing dementia that does not involve getting old, ingesting illegal substances or having a teenage daughter. (It's rumored that the Don't-Eat-So-Much diet is surprisingly effective, but it's never really caught on.)
In other news, we still haven't settled on a place to settle, but are out and about looking at schools and communities in New England. (We truly appreciate all the generous, insightful responses to my last missive about finding a place, but none turned into a Plan of Action.) Stay tuned!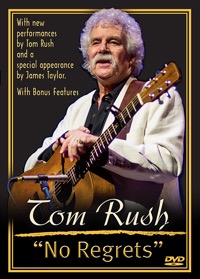 Coming up:
A Private Party in New York City on Thursday, June 26. (All I've been told so far is that "it's in a restaurant." I'm hoping they get more specific soon—I seem to recall that Manhattan has several restaurants and it might take a while to find the right one.)
Wolfeboro, NH, Great Waters Music Festival, Friday, June 27th. It's gonna be great, but it's sold out—sorry!
And best of all … the video documentary on me that's been in the works of the past couple of years is finally ready for its coming-out party! (An early cut won Best NH Documentary at the NH Film Fest in Portsmouth last October, but now it's really, really ready.) If you possibly can come by the Regent Theater in Arlington, MA on Saturday, June 28. The screening's at 8PM followed by a few songs and a Q&A session with yours truly and the filmmakers, Todd Kwait and Rob Stegman This should be fun!
And enjoy the first days of Summer!
All the best,
Tom Rush
Quote of the month: "My mind is a neighborhood I try not to go into alone." – Anne Lamott
P.S. – I'm on the road for the next few weeks and may not be able to respond to any replies to this. Please forgive me! TR