Symphony Hall or Bust !
April 9, 2012
Gang,
Things are popping around here, but I've been too busy with a lost dog issue to tend to the popper. In this household dogs are esteemed members of the family, held in as high regard as any human. (Sometimes higher, depending on what the human has been up to lately. "In the doghouse" can actually be an upgrade.) Suffice it to say that the pup disappeared on Saturday afternoon and wasn't found until 22 hours later, a mile away, by a friendly neighbor. So Saturday night was sleepless, and Easter was spent plastering the town with fliers, including putting them in mailboxes. I know this is illegal, but I was planning to blame it on our 12 year-old who "didn't know any better." Once the dog was found I had to go back around and retrieve them all. The idea of a 12 year-old doing hard time was more than I could bear.
Back to the popping. The REAL BIG NEWS is that we're making a run at doing a bash at Symphony Hall, Boston, on Friday, December 28th as the Grand Finale for my 50th year on stage. I'm envisioning this as a resounding echo of the shows I used to do there in the early '80s, lots of guests, lots of fun. Now this is a huge undertaking, but I figure if we can get the folks who are interested involved up front we might be able to pull it off. And here's how we do it: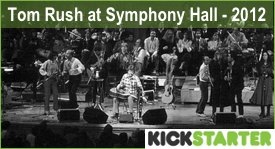 There's a website called Kickstarter.com that is dedicated to raising money for artistic projects – books, works of art, fun software, what have you. And concerts! You set a goal ($100,000 – this is my best guess at a break-even number) and a deadline (47 days, for the old Club 47), and offer rewards for different levels of participation. In this case the obvious reward is tickets to the show, the best seats priced slightly BELOW what they will be once they're offered to the public. There's other stuff, too – guitars, CDs, posters, tee shirts and so forth – for folks who can't get to Boston on 12/28/12. IF we reach our goal by the deadline, then and only then will your credit card be charged. If we fall short the whole thing just disappears. No charges, no rewards, and probably no concert. Check it out atKickstarter.] Get on board if you can!
Also in the news, I'll be going back to Passim for two more shows, one June and one in September – I'll give you advance notice as soon as the dates are firmed up. Also, a Canadian outfit, McKenzie & Marr has created a dazzling reincarnation of the Naked Lady guitar that I played throughout the 70's and '80s. I do a whole newsletter on her soon, but you can visit her right now at http://www.macmarr.com/store/tom-rush-naked-lady.
And lastly, but far from leastly, Todd Kwait and his merry band (he's the guy masterminding the documentary on me that is in progress even now) will be premiering his film on the Club 47, "For the Love of the Music," (Also on Facebook: http://www.facebook.com/Club47Film – Twitter: @club47film) at theBoston International Film Festival, Tuesday April 17 at 6pm. It's a very nice piece of work.
Enjoy the Spring!!
Tom Rush
Quote of the month: "I care not much for a man's religion whose dog and cat are not the better for it." Abraham Lincoln