April 23, 2012
Gang,
Spring Break for the 12 year-old, and yesterday we were in a huge mall somewhere and got split up. Recalling that the Kid said something about bras (it's unsettling when your little Pumpkin Seed sprouts hairy legs and cleavage – it happens very abruptly), I wandered over to the lingerie section. When Renee called on the cell to ask where I was, I announced, loudly and brightly, "I'm in Women's Underwear." Caused quite a stir among the ladies within earshot, the highpoint of my day!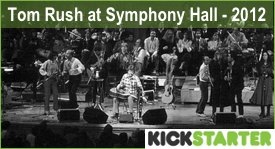 The Kickstarter campaign to fund the Symphony Hall Club 47® concert is off to a great start, thanks to the way you guys jumped in – check it out! I'm optimistic enough that I've started building the foundation for the show, recruiting artists who are also great sidemen – the ones who can brilliantly back up other artists when the occasion arises.
So far I have lined up David Bromberg, Buskin & Batteau, Eric Lilljequist and Dean Adrien. Trevor Veitch, my guitar honcho for all those wild years in the '70s, will be winging in from the West Coast to dazzle us with his sensitivity. The next step will be to expand the list to include some other alumni/ae from previous Club 47® extravaganzas. There will be, of course, some brilliant new faces as well, because this is the heart and soul of the Club 47® experience. Go to the Club 47 web page for an idea of who's been on board in the past and to get a feel for the history of our Club 47® shows.
The Kickstarter campaign is really the best way to get tickets to this show – better seats, lower price. The Symphony Hall box office will be adding a $6.25 surcharge per ticket once it goes on sale to the public. (If you can't come to the show, there are still some other compelling goodies to tempt you on board.) If you're so inclined, it would also be very helpful if you'd post the video on your Facebook wall.
Also in the news: some shows coming up this weekend. Marblehead, MA at the Me & Thee on Friday, 4/27 (they've had to reduce their seating capacity to make the Fire Marshal happy, so don't dawdle on this one); Saturday, 4/28 at the Iron Horse in Northampton (close to sold out last time I talked with them); and Alumni Hall in Haverhill, NH on Sunday, 4/29 – back on my home turf!
Enjoy the spring!
Tom Rush
Quote of the month: "Adolescence is when girls experience social pressure to put aside their authentic selves and to display only a small portion of their gifts." – Mary Pipher