Gang,
Just a couple of things for your consideration
Call me a sentimental fool, but it would seem to me that, in the richest nation on earth, the object could be to give more people health insurance, and better, not less and worse. Who benefits?
Lately, I'm being inundated with email solicitations for walk-in bathtubs, reverse mortgages, electric stair climbers, annuities, bacteria that will grow me a full head of hair, wrinkle creams, a product enticingly called "SnorBGone" and cannabis gummy bears. Are they trying to tell me something?
When a mermaid gets the crabs, it's serious. Stay away!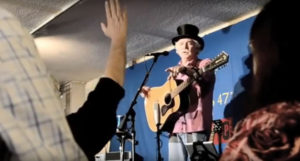 What's Wrong with America (youtube)The new album project is moving forward, thanks to those of you who've gone to PledgeMusic and generously participated. The recording part is done (though I may tweak a bit) but the artwork, the manufacturing—all that stuff—remains, and help is still needed and very much appreciated!
Gigs coming up, all with the amazing Mr Matt Nakoa at the keyboards:
The Center for the Arts Natick TCAN this Friday and Saturday. Natick, MA. _ –– A very cool room! 
The Town Crier in Beacon, NY, this coming Sunday. –– The Crier is hands down the best music club for miles around, we're hoping that Marshal Rosenberg will be joining us on percussion.
There are even more dates coming up, so check out the upcoming shows page for more details.
Enjoy the summer, don't forget the sunscreen!
All the best,
Quote of the month:
"To me – old age is always ten years older than I am."
–– Bernard Baruch